Expert Testimony

Litigation Consulting

Regulatory and Risk Advisory Services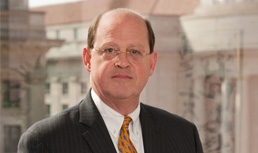 Provided by an accomplished financial services executive with unique perspectives as a former senior bank regulator (both policy and supervision), Chief Risk Officer, and banking consultant (shadow regulator). Demonstrated credit and enterprise risk Identification, evaluation, and management expertise. Expert knowledge of regulatory policies and practices and industry standards including heightened risk management standards, risk assessment, examination, and enforcement. Proven regulatory issue remediation and troubled bank remediation and resolution expertise. 40 years of experience with financial services organizations ranging from community, to regional, to systemically important.
Banking, Bank Supervision, Regulation and Enforcement, Troubled Institutions, Regulatory Relations
Credit and Credit Risk Management, Enterprise Risk Management, Bank Safety and Soundness and Compliance Risk Matters
Expert Testimony/Litigation Consulting
Banks and Bank Holding Company Matters
Sanctity of the Bank
Affiliate Issues and Risks
Source of Strength
Bank/Bank Holding Company Conflict
Bank Regulations and Supervisory Guidance
Office of the Comptroller of the Currency
Federal Deposit Insurance Corporation
The Federal Reserve Board
Troubled Institutions
Management and Board Conduct
Enforcement Matters
Commercial and Retail Credit
Underwriting and Approval
Risk Analysis and Evaluation
Risk Recognition and Ratings
Credit Risk Accounting Matters

(non-performing, TDR's impairment, etc.)

Problem Asset Management
Allowance for Loan Losses
Lender Practices
Borrower/Lender Disputes
Board Governance and Oversight
Conduct
Duties of Care and Loyalty
Unfair Abusive and Deceptive Practices
Marketing
Execution Failures
Director & Officer Insurance Disputes
FDIC Loss Sharing Disputes
Regulatory/Risk Advisory Services
Enterprise Risk Management
Culture and Tone at the Top
Governance and Structure
Risk Assessment, Identification, Measurement, Reporting, and Mitigation
Audit and other Assurance Functions
Board Risk Reporting
Heightened Standards
Commercial and Retail Credit
Portfolio Credit Risk Management and Credit Administration
Risk Analysis and Evaluation
Risk Recognition and Ratings
Credit Risk Accounting Matters

(non-performing, TDR's impairment, etc.)

Problem asset management
Credit risk review
Allowance for Loan Losses
Regulatory Relations Management
Troubled Institutions
Identification
Rehabilitation and Resolution
Enforcement Matters
Policies, Plans and Frameworks
ERM
Credit
Problem Asset Management
Liquidity and Contingency Funding
Capital Adequacy
Capital Restoration
Strategic
Compliance
Crisis Management and Recovery